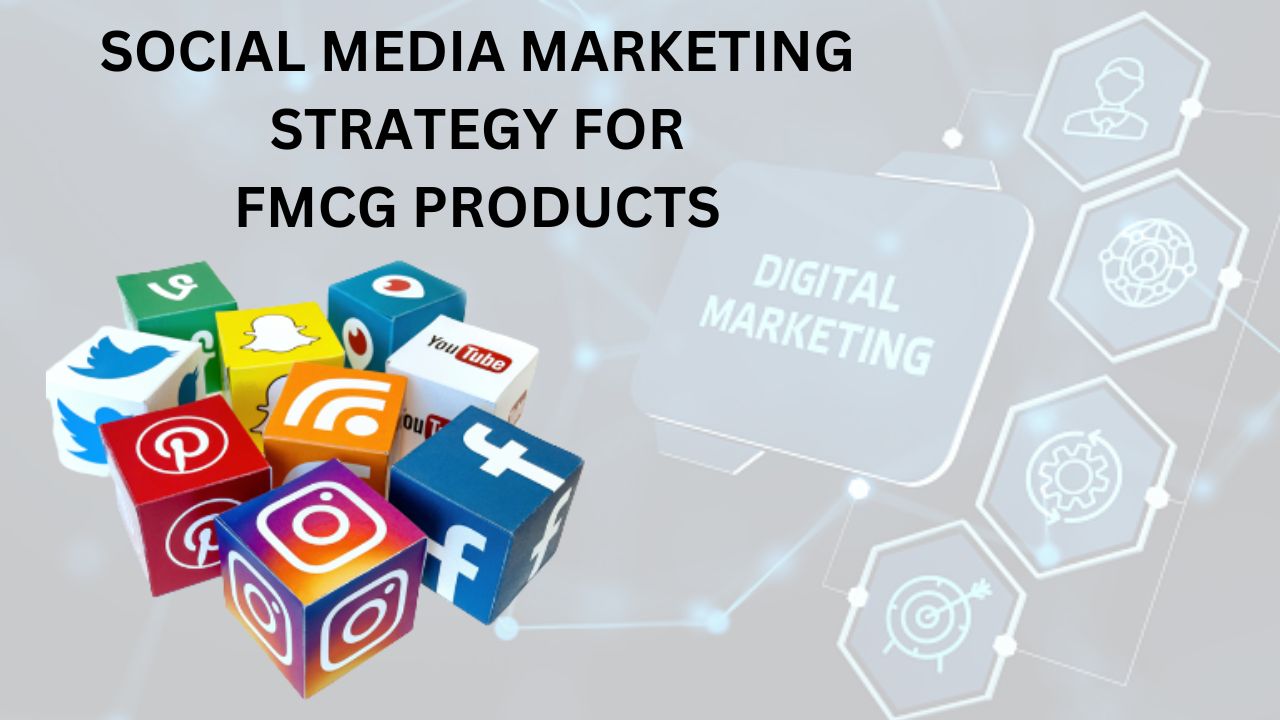 FMCG is fast-moving goods. Because of high consumer demand or the product deteriorates rapidly, these goods' shelf time is very short. Scope of Digital marketing benefits FMCG products in several ways. If you have a good marketing strategy for fmcg products and use it creatively, it can significantly drive growth in FMCG product sales.
In this blog, we will discuss various marketing strategies that can be used to promote FMCG products effectively. From leveraging social media to optimizing packaging design, we will cover all the essential aspects of a successful FMCG marketing campaign. Whether you're a small business owner or part of a multinational corporation, these strategies can help you boost sales and grow your brand's presence in the market.
So, buckle up and get ready to dive into the world of FMCG marketing!
WHAT IS THE DIGITAL MARKETING STRATEGY FOR FMCG BUSINESS?
Almost everyone is familiar with social media platforms & remarketing strategies such as social media marketing, email marketing, WhatsApp marketing, and display ads. In this blog, we are giving some best marketing strategies for marketing your FMCG products.  
BEST PRACTICES IN DIGITAL MARKETING STRATEGY FOR FMCG PRODUCTS OR BRANDS
1) Make your brand stand out.
The FMCG sector is a large sector with various similar products, which offers consumers a wide range to choose from. Only an effective digital marketing strategy can help brands build a unique brand identity. It will make customers form a strong brand opinion, ultimately influencing their purchase decision.
2) Take advantage of all social media channels to promote your brand.
Social media is an effective marketing tool. With most consumers engaged on these platforms, it's an easy way to connect with them. Social media marketing is the process of promoting your company's brand or products on various platforms to boost your brand's visibility and awareness on the internet. Nowadays business use social media to connect with customers.
It's an affordable, flexible, customizable, and highly engaging method. If done correctly, it will create valuable traffic for your FMCG company and increase sales on time.
If you are the sake of an FMCG company, Instagram, Facebook, and YouTube must be top of the list for you to use. They are the top three platforms for customer engagement and also the most extensive range of consumers. But, creating content and its execution must be tailored for each of these separately. By using social media platform like instagram you can make income but also you need powerful instagram content strategy.
Content that is targeted at consumers created in a way that makes the algorithm increase its speed and gain greater visibility is the aim. The short, innovative, and visual content is what people click on Instagram. Content that is informative and visually appealing in the form of pictures is a hit with Facebook viewers. Long-form video content packed with information is the best way to gain consumers through YouTube.
One trend in the field is using user-generated content, or UGC, to increase transparency, credibility, and brand awareness. Promoting the mention of your brand and republishing it to your own social media accounts will allow you to expand your customer base.
Story highlights are persuasive and engaging techniques that convince people to buy. Using the influence of celebrity endorsements and influencer marketing is a great way to communicate the brand's value and identity.
3) Use video to make your FMCG brand stand out.
Videos are now among the top-viewed types of content. The rapid rise of platforms such as YouTube is proof of the growing fascination with videos. This is why any effective digital strategy of an FMCG brand should incorporate an effective method for video. One of the primary benefits of using video content for your product is the endless space for creativity it gives.
Offline sales may still make up most of FMCG sales, but the future is in mobile phones. Mobile phones and affordable high-speed internet have reached nearly every segment of the Indian public. A significant proportion of Indian shoppers purchase FMCG items online via different apps, and the number will only increase. Marketing developments in FMCG have to keep up with the growing number of consumers who prefer shopping online.
5) Sell your FMCG Products Online
Nowadays, people are using online platforms (e-commerce) like Amazon, Flipkart, shopify etc., to buy FMCG products. Only a few FMCG products sell products online. FMCG brands can choose to sell products through ecommerce sites to increase sales. You need best digital marketing strategy for your e-commerce business to grow.
A unique customer experience can be created by using AI and virtual reality technology features. It will help to generate more traffic. E-commerce also provides access to insights into your strategy's reach and effectiveness. It also allows for implementing a much more profitable and marketable plan.
E-commerce is the hottest trend, and it isn't going anywhere. Therefore, be sure to capitalize on this trend and make your business effective.
6) Partnerships with other regional businesses
In certain instances, it can be helpful to break down the barriers between competitors and collaborate for the growth and success of your business. These partnerships can increase the customer experience and make their shopping experience smooth. Digital marketing allows for the effective creation and establishment of collaborations among two or more similar or different FMCG companies.
If you choose to engage in co-branding or co-marketing, determine the structure and model of your business partnership. Partnerships can provide valuable insights into the operations of your business partners. They permit the exchange of information and customer base that can lead to higher lead conversion. It's refreshing and excellent for increasing the engagement of consumers. It is also a personal and highly personal yet consumer-centric strategy that aims to satisfy businesses and consumers.
Make sure there is cohesiveness in goals, values, and strategies for implementation among your collaborators to run an effective campaign.
7. Marketing Through Affiliate Links
Affiliate marketing is an affordable and highly effective marketing strategy. It's the practice of paying publishers a percentage only when they make a sale through marketing your product. It generates good leads, creates trusting relationships, and promotes the brand's image. Nowadays, organizations  of  all  scales  influence the outstanding  future  of  affiliate  marketing  trends  to  grow  their  businesses.
Because it is based on performance, you can be sure of quality and creativity from marketing. Successful collaborations can be made based on the cohesion of values and objectives. By collaborating with the best affiliates and offering attractive offers, coupons, and discount offers, it is possible to turn leads into profitable conversions quickly and easily.
Websites are not an option anymore. In fact, having a high-performance, fully optimized website is the necessity of the moment. Since the advent of the internet is on the rise, more and more customers prefer to purchase and handle transactions online. This trend is even more so because of the epidemic.
If a custom mobile application deems a little unnecessary, your own site is the ideal alternative. Websites collect accurate data about consumers and offer valuable information about traffic flow and engagement. They build credibility and add value to brands. Websites are a crucial tool for optimizing the performance of SEO for your company to boost your visibility online. They also function as a direct method of communication, which means they can be more effective in generating high-converting leads.
The first step is creating a website that aligns with your logo, colors, values, and goals. Web designing is the crucial part Implementing features such as speedy site loading and visual organization of your inventory, transparency of pricing, and the flexibility of payment and delivery options are optimal. Review and testimonials are displayed, and a live chat function, a FAQ section, CTA hyperlinks, social media handles, and contact information are some of the most essential aspects that can enhance your website's appearance
9) Make an Effective WhatsApp, Email, and SMS Marketing Strategy 
Sending messages to your customers through WhatsApp, Email, and SMS is the more personalized way to contact your customers.
These are good for personal marketing as well as collecting feedback. They are great for generating traffic and sales, and they are efficient without sacrificing the quality of leads.
Thank you emails to customers who have purchased from your FMCG company. Offers and reward emails, announcements of new launches, surveys of your feedback, and emails for membership promotion are the perfect templates. A unified SMS strategy to confirm purchases, thank customers for the purchase and send them daily updates to keep them on their minds is an additional benefit.
10) Focus on content marketing
Effective use of content marketing is another way to market your FMCG products. Strong content will help to rank your website on top.
We are living in a digital marketing era. Every FMCG companies are focusing of Digital platform to promote their products. To survive and win in the coming decades, FMCG companies must reduce traditional marketing and capitalize on digital marketing to quickly grow. Moreover, FMCG brands must treat e-commerce as part of their core business and maximize their success in the e-marketplace. Only an effective fmcg marketing strategy can make your business growth. So you have to deal with an experienced digital marketing company for your FMCG product's social media marketing. Before you selecting your digital marketing agency you should review their experience in social media marketing. 
 How good is your FMCG e-commerce site?