"Dont assume it all works! Put yourself in your customers shoes and do everything they will do."
_ gary gebenlian
 Dont think this article is not related to your search just because I started off with this quote, since youve been looking for the scope of e-commerce in india, i thought something like that would help you. if not now then sometime else.
 Okay then let's talk about the scope and the future of ecommerce in india.
 Considering the current situation, ecommerce can be tagged as one of the wisest options to choose. Why?
Let's see why.
 Ever since the pandemic has struck the world, it has become really difficult to follow the manual and regular life that we were used to. Everything was switched to virtuality.
We were forced to attend everything and do everything virtually with digital help.
 But somehow people sought to find ease in this. They dont have to step out of their house, even if they want something right away.
 And this has made a tremendous rise in the demand of online shopping. 
The above picture can be more than evidence to show how india is beating the other countries in terms of development in online shopping, in fact india is the topmost country who are most likely to shop online.
And you can consider this as our first point to support the tremendous growth and scope of e-commerce in india.
To sum up the point we can say, since the pandemic has prohibited everyone from moving out, this has given the entrepreneurs a chance to level up their pursuit or the beginners to try something new that is most likely to be successful.
Now that I have emphasized a little bit of confidence in you about the amazing future scope of online shopping, let me make you acquinted with some guys that will help you to have a little more firmnes on the matter.
You can also dive deep into the ecommerce field and be a pro in it. How? Learn digital marketing.
Since ecommerce is simply marketing through the digital methods, there is no better option or way than that.
And by the way, everything in the world has its pros and cons, and the online shopping business in India may too have that.
But only because you see some cons you can't take back, if the pros outshine the cons you can definitely try that.
Let's start from the begining
scope of e-commerce in india – the evolution of online shopping
When speaking about the evolution of eCommerce in India, it is a vast area to cover but still I will make an effort to let you understand the awakening picture of the growth of eCommerce in India and how this knowledge can help you to set up your home e-commerce pursuits.
When we are particularly talking about the online shopping business in India then we cannot start without mentioning K vitheeswaran who started the first eCommerce business in India called fabmart.com in 1999.
Only after tthat was born the well reputed ecommerce websites that we know today which are amazon, flipkart, myntra etc.
An exception in amazon, because amzon was originated in usa on 1995 and was then articulated into india in the early 2000's.
India is a developing country. India is always ready to update themselves into much more of a sophisticated lifestyle and that is also one of the reasons that can assure the positive scope of e-commerce in india.
Because people are neither hostile to the new technology nor the new ways.
In fact checking the amount of rise in the internet users of India can reveal shocking results which can be considered as a key factor why the online shopping businesses in india are hitting such a positive growth.
Since there are a lot of reasons for an ecommerce business to become successful in India, now pause and take a look at these current ecommerce businesses born in india.
Ecommerce websites in india from 2000's
1. MakeMyTrip – 2000
2. Myntra – 2006
3. Flipkart – 2007
4. Zomato – 2008
5. Paytm – 2010
6. Byjus – 2011
7. Nykaa – 2012
8. Grofers India – 2013
9. Amazon – 2013
These are some of the successful eCommerce websites in India that are mostly running right now. Just like any other businesses, they too have their own and confidential business tactics and strategy that takes them to the heights.
But if a business is successful apart from the well designed strategy, it should be a business that is adaptable in the location in which it is going to be implemented and to the people in there too.
The evolution of eCommerce in India and the current growth of e-commerce size in India is a great piece of evidence to assure that futute and scope of ecommerce in india is still high.
I know the evolution I showed you here is not a full picture, but, well that is not my objective here anyway.
I just wanted to show you how from the last decades ecommerce or online shopping businesses have been such a great succes in india.
Now moving on to something more.
Lets see the importance of ecommerce in India in the current situation and how you can grab the moment.
current importance and scope of e-commerce in india
As I mentioned above, the current situation is the most vital and important thing that you will ever need, to start an online store.
Now people cant go out and buy things on their own due to the pandemic, people will most probably prefer the safest method of living in order to survive, and that's where you will grab the moment.
Since India has been lately known as digital India, and the covid situation being a blessing in disguise for entrepreneurs who are looking to start an e-commerce, can ultimately have a head start because the demand is now, more than ever, more demand, more supply.
And from the latest studies and surveys that were conducted during the pandemic to measure the difference and effect of covid on e-commerce, it has been clearly shown that covid has supported the e-commerce industry to grow.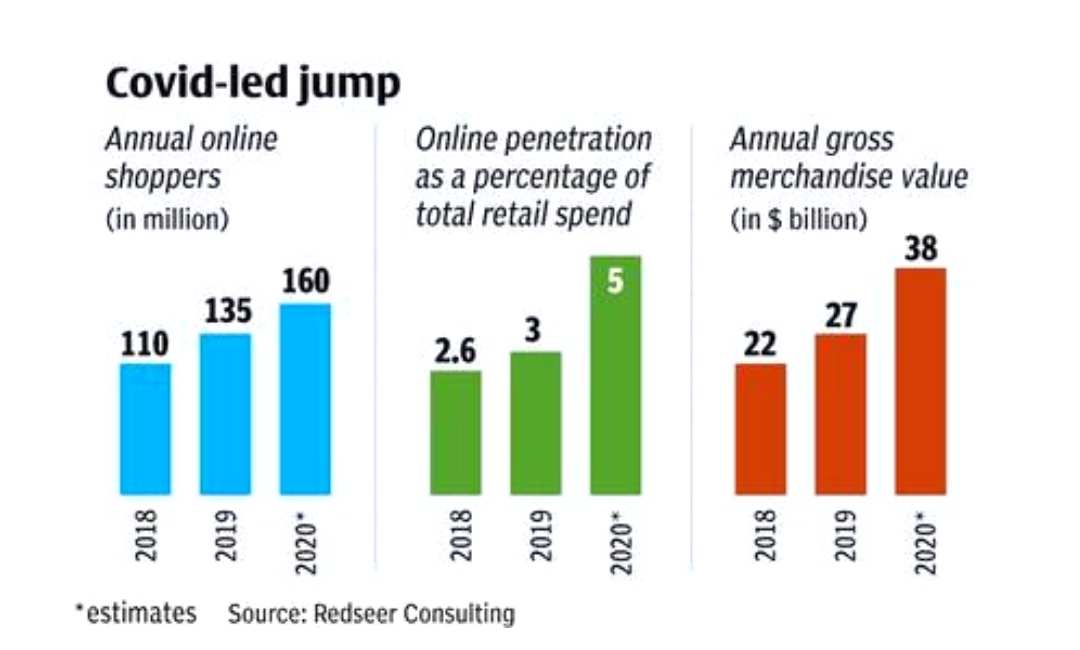 This is the difference or growth jump in the ecommerce industry in India after the covid was started. This can clearly depict the importance of ecommerce in India right now.
If you are not satisfied with the evidence that is collected during the covid-19 to prove the scope of e-commerce in India, you can also take a look to the growth of eCommerce industry in the country from 2015 onwards, which will also show results as the same; a constant growth which will most probably be the same in the future.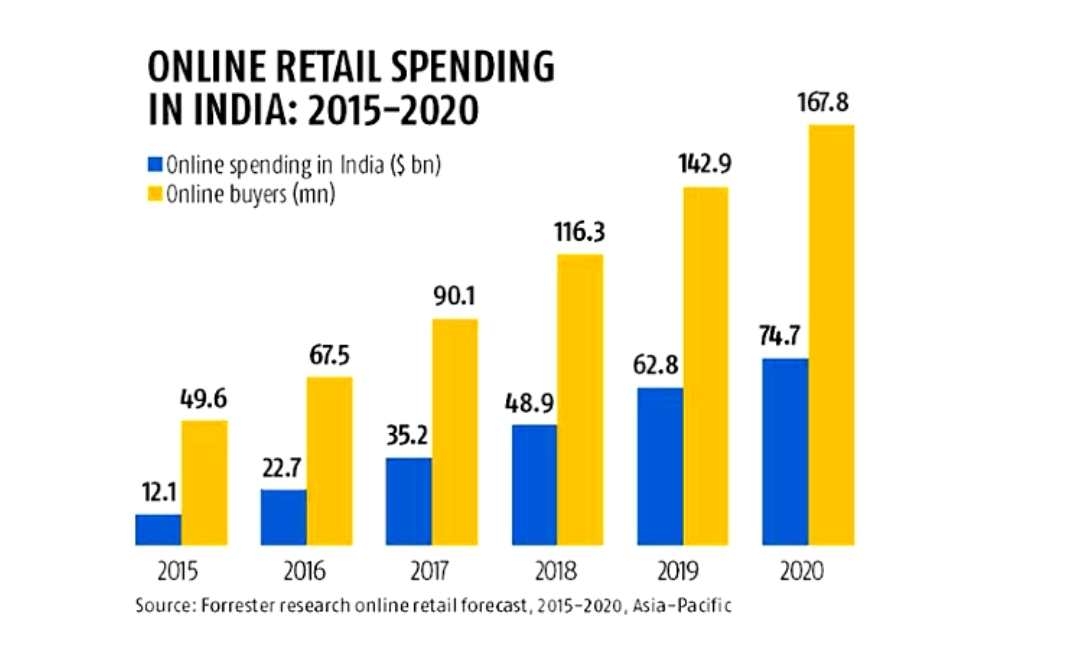 This picture shows the gradual growth of online retail spending in india. People who are ready to spend on online shopping is increasing day by day and it will almost cover the majority of the population by 2020.
Now that evidence is laid and proof has been submitted. Lets move to the key assigns that you have to keep in mind while opting for the ecommerce industry.
Nothing so vast, just the major objectives of an ecommerce website and what you will most probably require to start an online business in india.
The major objective of  e-commerce website in India
Do you still remember the quote i mentioned at the begining, we just have to follow that for a good ecommerce website.
Just imagine yourself in a situation where you are buying something from an online website, what will be your expectations, what wil be the things that you expect to provide you, make yourself at the most demanding and high expectative stage and think of the things that you want from their service.
And that's how you make the best website at present.
Let's take a closer look.
Before moving onto that, one more important thing, optimise your ecommerce app on the play store and the app store.
Right from the beginning:
● Welcoming And Engaging Landing Page
The landing page is the first page that the customer steps into, so, indeed messing up the first impression of the customer is the last thing you want.
When talking about the landing page you must keep the customer mindset at the top. Feeling some kind of rush and conjunction right from the beginning wont help the further movements.
Keep it simple and curious. Try to entice them with various offers, delivery methods and catching headtags. You can also take the assistance of the best landing page providers.
● Language ease and easy translation method
Since you are in this article 'cause you've been looking for the scope of e-commerce in india, and talking about india, it is diverse country with immense number of languages.
Even if the 50% people in India choose English over their mother language, there is the other 50% who might choose their own language over English, and sometimes there are chances where the potential customers will be in the other 50% and you dont want toms that right.
So make sure to give language options.
● Easy navigation throughout the website
There are chances,where the customer comes to buy something and wants to buy something else too or they can't find the things they want but are stuck with something else in your website; and this is a crucial part where you can convert them to potential customers.
You just have to make their way a little bit easier. Make your website easily navigable. Place large and attractive buttons. Make it really enticing, like make them want to do it. Make everything look simple yet informal.
● Easy contact options
Customers are not very fond of the one way communication, despite that insecurity if they are trying to do online shopping with you that means they trust you, and do not break that trust.
Most of the ecommerce websites in India are being pushed behind because of the low customer service they've been providing. direct or easy contact options are the major reason for the low -quality-service-providence. You see!
So make sure you give the customers an easy way to contact you if they have any trouble with the website or delivery or any others. No matter if the matter is out of your authority like something that has to do with the delivery or anything else. Just make sure to give them something that can keep them at ease. Assure them trust.
And finally, before concluding the article we should also take a peek at the cons of starting an online shopping business in india. That you might face if you're not following the customer friendly methods to establish the pursuit.
how e-commerce works in India? – negative aspects
When considering any question, analysing the positive and negative aspects of a solution is mandatory. Just like that, when considering the question – how ecommerce works in india? Its solution too has its own negative aspects.
There is also a way to overcome the negatives which is to give the job to the best ecommerce development company in kerala, where they will sort out everything and give you the site ready to use with very simple steps.
Since weve alrendy spent the entire article optimistically on the positive aspects of the scope of e-commerce in india, now let's take a look at the negative aspects for you to be prepared from all angles.
Let's take from the top:
☛ The first point that should be taken into consideration is that it is hard to earn the trust of the customers.
When talking about india, amazon, flipkart, and other early established ecommerce pursuits has already managed make themselves reach out to every corner of the country, so trusting a new website for their needs will be rarely occuring, especially when they provide almost all the necessary items at ease.
☛ The next point that should be noticed is payment methods.
Even though we provide a lot of online payment options to our customers, they still prefer cash on delivery which can sometimes be a problem. And assuring strong security to the website since money transferring is occurring is crucial. And the most difficult part is, the costumers realising that the website is highly secured. They dont easily trust a newborn.
☛ It is noticed that Indian citizens have a tendency to return the products easily.
This thing over here " the returning thing" is a lot of work sometimes. Sometimes the payments will be already done and customers will be returning the product unexpectedly that can cause a lot of trouble. If you have already paid for the dilivery services and other things like that, an unexpected return of the product can cause alittle more trouble.
☛ Another issue that rules the negative world is the delivery issues.
Ahhh… the delivery issues. Havent you experienced any delivery issues since the pandemic. Actually we can't really blame the websites, 'cause it's not their fault really. It is because of the uneven and constant lockdown in many of the regions. And that can be considered as of the major issues that should be taken into consideration while starting an online shopping business in india.
Wrap Up
By stating the negative sides too, i think it's time for me to conclude our little talk on the scope of e-commerce in india. Before concluding, I would like to remind you to analyse every aspect and angles of the step you are going to adopt. Hope all this information comes in handy to you.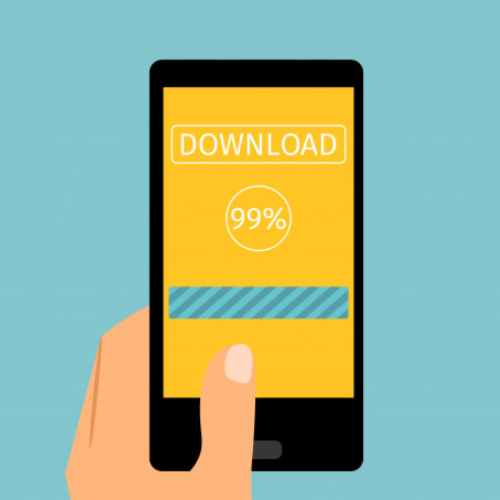 top 5 social media marketing strategy for e-commerceBY  AYSHA ANSAR  |  Nov 08. Have you ever thought about how far and how strong these social media marketing strategy for e-commerce can go? Stay close 'cause in this article, we will take a closer look at how...