Why marketing automation is the next digital marketing future?
''McAfee software, popular for McAfee anti-virus software,
increases leads for  4 x.
Conversion rate increase for four fold,
The overall leads reduce by 35% but the quality improved.
Connection between marketing and sales were greatly enhanced…..''
The lecturer was moving to the next topic, but this story stayed in mind.
I started studying the facts,
It spread out another world in the marketing
''Online marketing automation.''
Why is marketing automation important ?
What are the automation tools for digital marketing ?
How an organization can make use of online marketing automation?
Questions start disturbing, and finally I found myths, facts, advantages and unbelievably golden opportunities.
What is online marketing automation
Marketing automation is the software which helps to automate marketing campaigns and ease repetitive tasks like email – marketing, social media tasks, ad campaigns and to provide personalized experience.
The definition looks simple, what are the activities which can be facilitated by online marketing automation.
•  Email marketing
•  Landing page creation
•  Segmentation
•  Lead generation
•  Retention
•  Website personalisation
•  Measuring ROI and much more
That is tasks involved in digital marketing, in other words we can say, digital marketing automation.
Myths and facts about internet marketing automation
Once upon a time, it was believed that marketing automation replaces the marketing team.
In fact Marketing automation assists the team to work efficiently, an automation couldn't craft a message. It is a technology to scale the marketing effort and help to use the time effectively.
Another assumption was we can use Marketing automation for emails only In reality, it is used to automate social media, personalized web experience, integration of different Other misinterpretation is marketing automation is only for marketing team More apparently, the sales team defines a quality lead and converts it smoothly. The workload of the sales team reduced extensively.
In short, the benefits of digital marketing automation are enormous and choosing the right tool, and an eye on qualified leads provides greater revenue and increased ROI.
What are the top three elements of marketing automation ?
◇  Behaviour based marketing segments:
Artificial intelligence backed marketing automation, and it uses different codes to track human behaviour and provide personalized recommendation.
For example: we have seen many of the e-commerce websites. Suppose 10 customers have registered on an e-commerce website, 3 of them add products to their cart, and one of them leaves the cart without payment.
Here the automation software sends an offer mail to the people who have never visited the website after registration.
Another mail for those who leave the website half way and a tracking for those who checkout.
That is behaviour based marketing check outs.
◇  Business development automation:
The biggest use of marketing automation is lead generation With the help of marketing automation, we can understand more qualified leads and be able to push the potential customers toward the end of the sales funnel.
◇  Workflow automation:
Every marketing department has different tasks to be done.It can be automated with the help of automation. Imagine your prospect has subscribed to your newsletter. You need to personalise the content, require pitching products into it, need to follow up the email based on the open rate, clicks and not respond, etc. It demands a lot of responsibility. Marketing automation made it simple and minimised workflow.
Advantages of Marketing automation.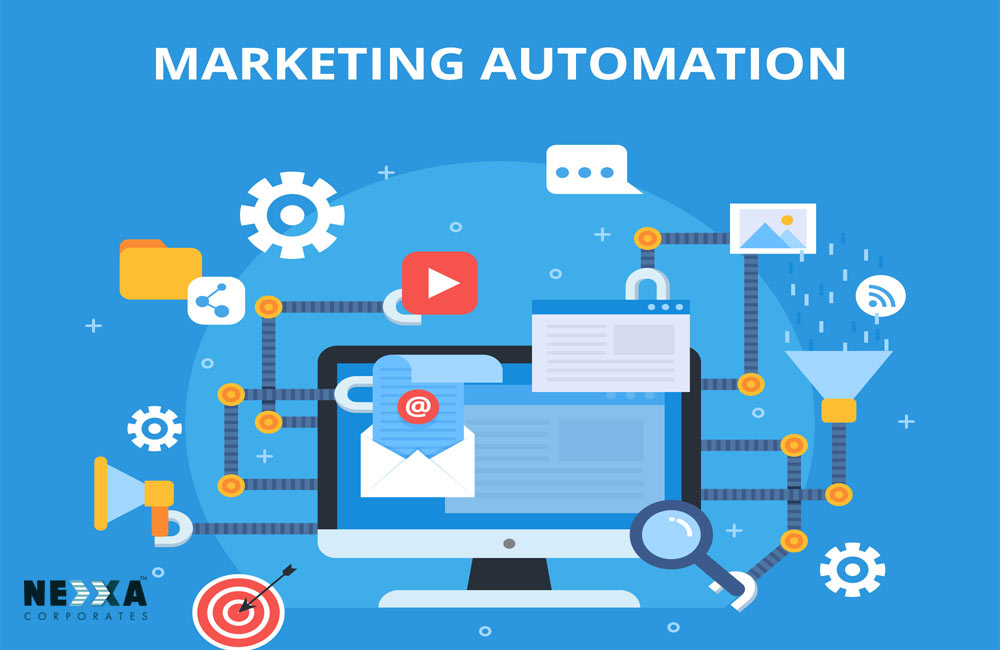 ◇ Decrease marketing cost:
Let us consider an example of how marketing automation decreases marketing cost. Let us explain it with the help of an example. For example, we don't need different software to create landing pages and PPC .It can be done with the help of a single website.
It reduces the marketing cost considerably.

◇ Able to differentiate cold and hot lead
When a lead came, the sales team needed to work on it continuously and figure out each stage of the conversion. When you depend on marketing automation. You set the messages prior to the campaign. When a lead comes, automatically the message goes accordingly during the stage of buying

◇ Decrease marketing cost:
Let us consider an example of how marketing automation decreases marketing cost. Let us explain it with the help of an example. For example, we don't need different software to create landing pages and PPC .It can be done with the help of a single website.
It reduces the marketing cost considerably.

◇ Build better relationship with customers:
Marketing automation helps to personalize communication and can address the exact pain points..it makes more conversations and builds better relations with the client.

◇ Improve customer lifetime value:
There must be a balance between customer acquisition and customer retention. Do you agree with it?
In order to provide a personalised campaign for existing customers and new customers, you can rely on marketing automation. More product recommendations based on their behaviour, send answers to their queries and keep them engaged with your brand.

◇ Use artificial intelligence to generate automatic content to the visitor:
With the help of artificial intelligence, we identify customer content consumption, customer demographics, and past purchasing history and provide personalised content.
Why does your business need marketing automation?
Are you confused about investing in marketing automation?
If you have below listed requirements, then you must have to make an investment in marketing automation.
◒ If you are not able to generate high-quality leads, due to poor quality content.
◒  You have many repetitive tasks in social media and email marketing .
◒  You need to provide personalised content .
◒ You need to combine different digital marketing services like SEO, PPC, Social media in one place
◒  You need to connect with your customer as soon as they come up with an enquiry.
◒  You are required to maintain a long-term customer relationship.
◒  You cannot convert a lead into conversion.
Competition in every business is high, and it required an effective strategy to crack the competitor. Marketing automation is one of its kind, which generates high-quality leads and it reduces the marketing cost.
Investing in marketing automation is one of the solutions to improve your business and strengthen your overall marketing strategy.
What are your thoughts on marketing automation?
What is your experience ?