In today's age of the internet, an increasing number of people are using messaging apps like WhatsApp for communication.
With the rise in popularity, a lot of businesses are trying to see how they can tap into the market.
WhatsApp marketing services are the latest trend and are quickly becoming the most popular way for businesses to reach their customers.
But a lot of people don't have any idea about WhatsApp marketing. For better knowledge about WhatsApp marketing, you need to learn it from the best digital marketing trainer. 
So how does this all work?
Maybe you are considering getting a WhatsApp marketing service and you want to know what to expect.
This blog will answer all your questions.
The blog also looks at some of the most frequently asked questions people have about WhatsApp marketing services.
INTRODUCTION : WHATSAPP MARKETING
Whatsapp marketing is a digital marketing strategy that aims to increase awareness, generate leads, and increase business.
This is perhaps why the popularity of the app has been growing tremendously.
With the use of WhatsApp, marketers can conveniently reach out to their target audience using the platform that they're most comfortable in at the right time in the right format.
You can join the best social media marketing course in India if you wish to learn more about WhatsApp marketing.
BENEFITS OF WHATSAPP MARKETING
WhatsApp marketing services are one of the important ways how businesses use social media to connect with customers. It is a fantastic chance to enhance your marketing plan.
When you use WhatsApp to promote your business, there are four main benefits:

1. Deep relationships with customers:- Whatsapp offers businesses a wide range of customisation options right out of the box.
Sending personalised welcome messages, exclusive offers, birthday greetings, and other communications is possible.
Most of the customers claim that they only interact with brands through individualised marketing communications.
Therefore this strategy keeps customers more engaged in a company.
2. High conversion rate:- It's very essential to pick the right platform for your first interactions with customers.
When contacted via phone calls rather than email or social media, customers may get frustrated.
WhatsApp might help your potential customers to make a purchase.
Businesses claim that half of the WhatsApp marketing messages were responded to by their customers.
And even better, messaging encourages conversions.
Messages sent to prospects after the first contact can raise the conversion rate by more than 100%.
3. Bigger sales:- WhatsApp marketing acts as a kind of sales magic wand.
Including a WhatsApp phone number on your website could generate more quality leads for sales, and increase website traffic. You can check website traffic free by using some tools.
Some customers have trust in companies or their products only because they communicate with them through WhatsApp messages.
A lot of people are more likely to make a purchase from a business if it is active on WhatsApp messengers.
4. Affordable cost:- WhatsApp continues to be a very cost-effective marketing medium, which attracts small businesses to this platform.
Installing WhatsApp on your mobile and connecting to the Internet is all that is needed to get started.
The chances of reaching your WhatsApp SMS marketing messages to the customer are extremely high.
WhatsApp marketing increases conversions, boost revenues, enables you to create long-lasting, high-quality relationships with your clients, and costs next to nothing to implement.
7 SIMPLE TIPS FOR WHATSAPP MARKETING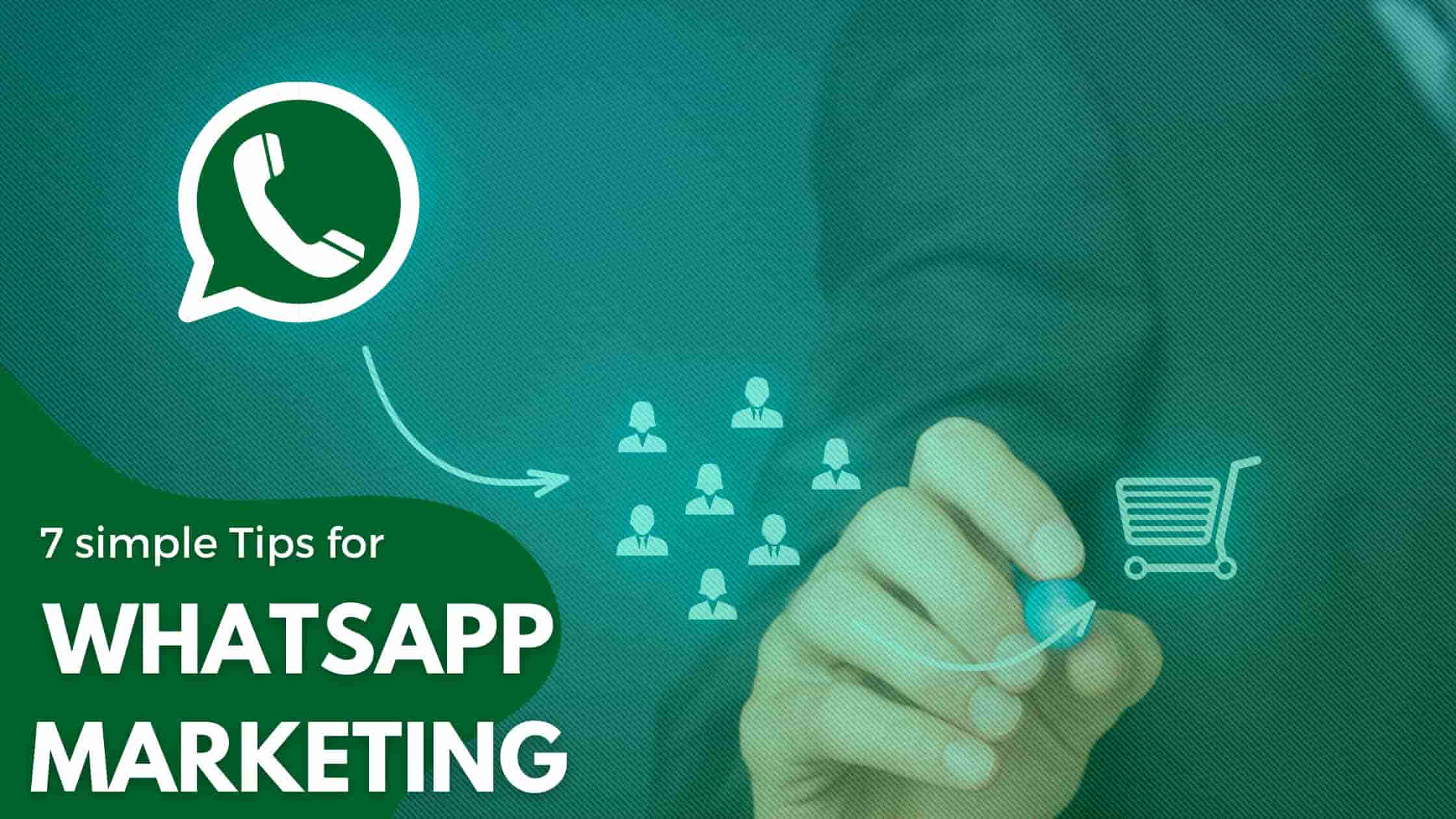 Whatsapp marketing services are a great way to get your business off the ground.
The best part is that it's easy to set up and costs nothing.
The best part is that it allows you to reach out to customers who are in need of your services without having to pay for advertising.
We would like to share some tips for improving your WhatsApp marketing services, they are:
1. Build Broadcast lists:- Create lists for certain topics, then send out one-way messages to encourage involvement.
For instance, in communication, include links or invitations.
2. Utilize group chats:- All group participants can respond to group messages, which are distributed to all group members.
When running focus groups, is extremely helpful or conducting market research before launching a product.
3. Experience Free messaging:- You can send and receive messages for free using WhatsApp.
The iPhone, android, blackberry, windows and Nokia platforms all support it.
Because WhatsApp messenger utilises the same data plan as you do for email and web surfing, they all can communicate with one another.
Users can form groups and exchange a limitless number of videos, voice messages, and photographs for added value.
Whatsapp can easily cross international borders if you're attempting to reach a global audience.
4. Set next-level customer support:- WhatsApp is compatible with desktop devices even though it was created for mobile ones.
Therefore, you can use it in conjunction with other desktop programmes to give powerful customer support, your clients can get in touch with you directly and you can respond right away.
5. Uphold high-quality content:- Make your texts short and impactful because texting is WhatsApp's primary function.
But don't stress yourself out over the length.
You are not limited to a specific character length as other platforms.
6. Know your audience:- Make each word matter.
You won't see much if any, interaction if your writing style and word selections don't connect with your audience.
7. Beware of the opt-out option:- Remember that the consumers can easily choose not to receive notifications. You could quickly fade into obscurity.
Therefore, be careful to remain interesting and relevant.
LIST OF FAQS ON WHATSAPP MARKETING SERVICES

 Whatsapp marketing is very effective in getting your message to the right people at the right time in the right format.
It's also crucial in helping you grow your business.
With this in mind, here are a few FAQs on WhatsApp marketing services.
1. What is Whatsapp marketing services?
Whatsapp marketing is the most recent marketing strategy that allows you to use one of the most widely used social media platforms, Whatsapp, to send messages and conversations connected to your brand.
2. Why should I choose WhatsApp marketing services?
Of course, the fact that Whatsapp is the most widely used messaging software and that users are constantly checking their chat boxes therein is one of the causes.
As a result, there is a lot better probability that they will read your messages, particularly if the client is interested in your business.
Additionally, you may check on Whatsapp to see if the recipient of your message actually read it.
3. How do I get my customers to read my messages instead of ignoring them?
Another benefit of WhatsApp marketing messages is you can be as inventive as you like with your messages.
In order to make your potential customers, you might use GIFs or images in your messages.
A message with good design will always draw readers.
4. How will it benefit my company?
You can send messages about your goods and services, as well as deals, promotions, and other business-related information.
Direct communication with your clients will benefit both of you.
Additionally, you will be able to monitor customer behaviour and response through this.
5. What are the main reasons to use Whatsapp marketing services?
Free of cost
Files can be sent using it.
You will get customer reviews directly.
Meetings and group discussions are possible
You can send notifications about upcoming events and sales
Messages won't be missed
6. How to create a Whatsapp business account?
To begin using a WhatsApp Business app for WhatsApp marketing, you must first have a distinct phone number registered in the nation where you want to reach your target market.
You may share your location, email, and website, and establish a business catalogue with a description of your business using the free WhatsApp Business app for Android and iOS, which you can also customise with your company profile.
Similar to a regular WhatsApp account, you can use the WhatsApp Business app to send and receive messages from clients one-on-one or to WhatsApp groups where you have been added or are an admin.
Your business account can interact with clients around-the-clock and respond to their inquiries by setting up automated responses or even a WhatsApp chatbot.
The Facebook Business page verification step is one that must be completed in order to set up a WhatsApp Business account.
Additionally, some apps need API access to send WhatsApp messages to a list of phone numbers. In this situation, WhatsApp and their registered partner who links you to the WhatsApp Business API will demand that you validate your Facebook Business page and complete a few more procedures in order to activate your WhatsApp for Business Account (WABA).
7. What is bulk WhatsApp marketing software?

It is a solution that helps your company to manage your whole WhatsApp Marketing plan, including sending bulk messages to your customers without having to save their contact information.
You can send interesting messages that include text, photographs, documents, and videos using this application by using a bulk WhatsApp service provider.
8. Name the top 10 bulk WhatsApp marketing software 
Whatso
WATI
Twilio
WAAM-it
Vepaar
Rapid Planner
Viking
WhatSender
WappBlaster
Rapbooster
It seems like the number of people using WhatsApp is increasing day by day.
There are now over a billion users around the world who are using this application for messaging and voice calling.
More and more people are discovering the power of WhatsApp marketing services and we wanted to share with you some of the questions on WhatsApp marketing that we're frequently asked by people who are looking for a way to grow their business using WhatsApp.
We believe that we are the best social media marketing company in Kerala that provide Whatsapp marketing services and our academy offers the best social media marketing course in Kerala.
If you are interested in learning WhatsApp marketing, you can contact us.
If you have any questions or need more information about our services, please visit our website. In the meantime, we would love to hear from you and your feedback is always welcomed.