In 2007, Sachin and Binny Bansal started a small online bookstore. They called it Flipkart. More than a decade later, Flipkart is India's most valuable e-commerce startup. But how did they do this? What is the Flipkart marketing strategy that helped in their success? What is the business model of Flipkart? 
Let's dive into the Flipkart case study to find the secrets to its success.
Flipkart is an Indian e-commerce company headquartered in Bengaluru, India. The company was founded in 2007 by Sachin Bansal and Binny Bansal.Sachin and Binny initially intended for Flipkart to be a comparison-shopping website like many e-commerce websites that started between 1999-2006.
At first, they planned to create a website that would help users compare product prices across different e-commerce platforms. But they started to look more closely at the e-commerce options in India and realized that these websites were terrible.
The UI was amateur, the UX was frustrating, and the products were disappointing. And in light of this realization, Sachin and benny ended up pivoting. Instead of launching a comparison shopping website, they found a shopping website- an e-commerce platform.
Now, if you head over to Flipkart today, you will find hundreds of categories of things you can buy. 
But you might be surprised to know that this isn't new. In December 2007, less than two months after launching their website, the founders furnished Flipkart with over 400 categories.
But unlike today, where these are like electronics, appliances, men's and women's fashion, furniture, sports equipment and medical supplies, back in 2007, these were categories like nonfiction, history, biographies and memoirs, religion and spirituality and fiction.
The Flipkart of 2007 was an online book store. But it wasn't the first. There were plenty of other online bookstores in India at the time. After becoming a leading online bookstore flush with funds, Flipkart expands into the electronic category by introducing mobiles.
It was later expanded to other categories like fashion, home appliances, groceries and lifestyle products. However, the startup had to build trust among its customers in online shopping by providing them with the option of Cash on Delivery and a return policy. 
Target Audience of Flipkart
The majority of the target audience is in the age group between 16 and 55. It focuses on those looking for variety and want to enjoy stress-free shopping at home. Flipkart is a site for anyone who browses the internet and needs more time for shopping. 
The business model of Flipkart
Flipkart operates with the basis of B2C (Business to Consumer Model), which includes customer relationship management and supply chain & advertisement. In the initial phases, it sold books and other products using a direct-to-consumer model. 
Then, it evolved into an online marketplace model that connects sellers and buyers and expands its catalog. Flipkart has more than 70 to 80 categories. 
It permits sellers to market their goods with attractive discounts to their customers who wish to purchase them. The sellers might have reached customers with the help of the platform offered by Flipkart. 
To make this transaction easier and to deliver the order, Flipkart charges a varying amount of commission for the vendor.
Other revenue sources for Flipkart are Seller commissions, Convenience charges and advertisements.
Flipkart earned INR 24,500 crore in revenue in 2022. Its Big Billion Days, which are in operation during festive times, can also be a significant source of income for the company. This is the business model of Flipkart that helped to reach success of the organization.
Flipkart marketing strategy
Flipkart marketing strategy is comprehensive and reach targeted audiences through this. Nowadays, everyone uses smartphones and the internet. So digital marketing strategies are beneficial for Flipkart to reach their customers and increase sales.  
Let's discuss about Flipkart marketing strategy.
Flipkart's SEO strategy
Flipkart, the biggest internet retailer in India, has been working hard to improve its website to be ranked on search engines. The Flipkart have a strong SEO for business that helped to achieve the success.  When someone is searching for an item on the internet, Flipkart appears among the first two results. Flipkart marketing strategy on SEO played crucial role in flipkart success story.
It's possible because Flipkart made a great effort to do its SEO. 
As per SEMrush, a keyword tool, the domain overview of Flipkart is given below.
The authority score of this website is 80, their organic search traffic per month is 234 million, and the number of backlinks to their website is around 85.1 million.
Flipkart's website has good authority and organic search traffic on the internet. The process of obtaining such a large number is challenging, which makes it essential for marketers to gain a lot from the strategies of Flipkart and optimize the website. 
These are the Flipkart marketing strategy that gained success.
Flipkart's search engine optimization strategies aim to create a mobile-friendly and user-friendly website.

The Flipkart SEO strategy is based on longer-tail keywords or phrases instead of one word to ensure that the right people are exposed to their ads. And they also did an effective keyword research to implement the SEO strategy.
Flipkart examines customers' most frequently asked questions and selects the most popular keywords for their website URL. They also used proper google ranking factors on their website.

The speed of the website is a crucial element of Flipkart. The health of your SEO depends upon the speed of your website. The percentage of people who leave your website dramatically increases for each additional 0.5 seconds it takes to do.

Backlinks also played a crucial role in high authority of the Flipkart's website. you can also create backlinks for your organization's website to maintain a good authority score.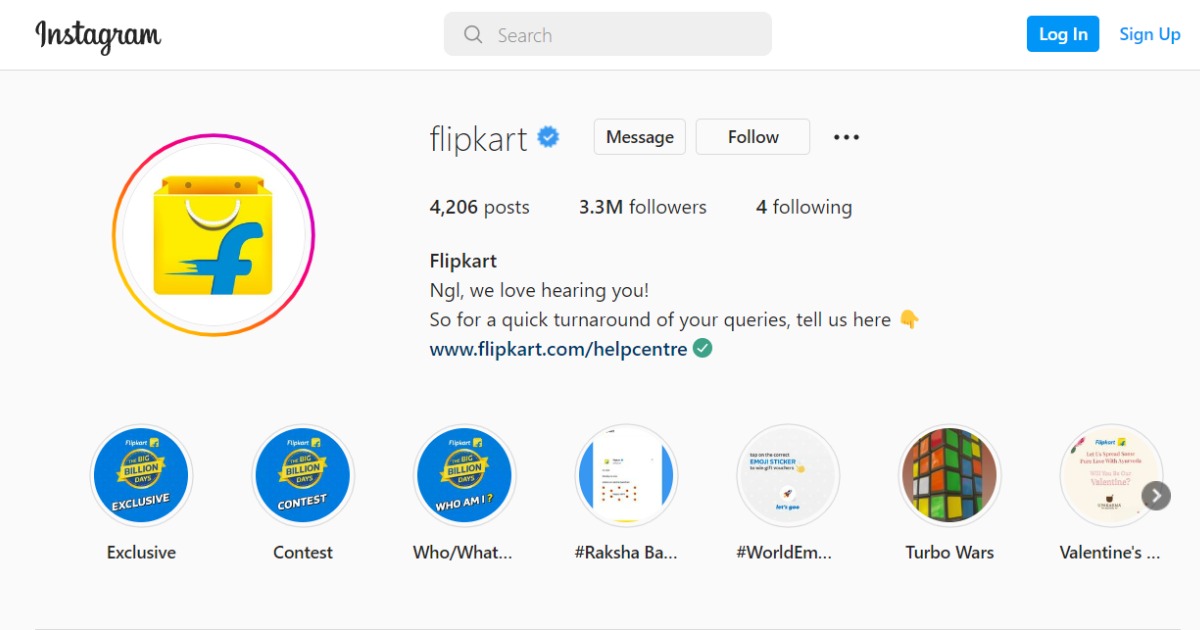 Flipkart has 3.3million users on its Instagram page and shared 4206 posts up to date (as on November 2022).On average, they post 2 to 3 Instagram posts daily.
Flipkart's Instagram content is mainly designed to engage customers. It includes posts, reels and videos about their products. But they don't sell products directly through Instagram.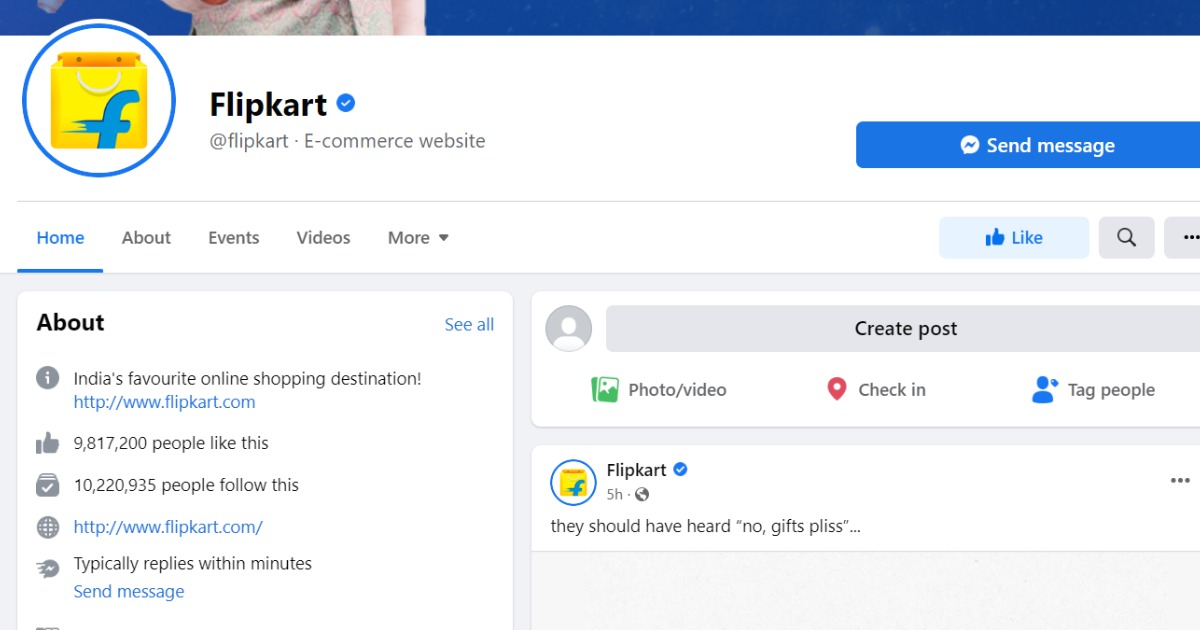 Flipkart usually uses its Facebook page to increase connections with its customers. It also uses Facebook to attract customers through promotions of its offers and deals.
Flipkart's Facebook page has 9,817,200 likes and 10,220,935 followers. 
They post different content daily, like seasonal events, holidays and birthdays. They organize competitions and games to engage customers on their page. 
They also have a designed customer support tab. Engagement and acquisition of customers are the ultimate focus of Flipkart. Facebook is a platform were, business use social media to connect with customers. You can also use the best Facebook marketing tips to promote your e-commerce business.
Flipkart has 2.8 million followers on its Twitter page. They update their Twitter page with videos and photos of new items, deals and sales.
On average, 2 to 3 new products are introduced or launched daily.
There is a unique support channel for customers. This is the another flipkart marketing strategy. Twenty-four hours of customer service is another essential feature of Flipkart. The query will be answered in real-time.  
Amazon
Amazon is the largest e-commerce store for online shopping. It provides a variety of products and services. Amazon is recognized as the most popular internet retailer in the US, earning net sales of around $502.191 billion in 2022.
A large portion of its revenue comes through the sale of electronics. Amazon is also among the most popular brands, with more than 400 million customers who have active accounts.
The company currently has more than 1,298,000 employees across the globe. Amazon is the most potent competitor of Flipkart in India.
Snapdeal
Snapdeal is another competitor of Flipkart. It was established in 2010 and has grown to be one of the largest online retailers in India.
They sell their products to various locations across the country. It offers a broader range of goods estimated to be in excess of 35 million sourced from more than 125,000 retail stores and local and international brands. 
Alibaba
Alibaba is a big company offering online shopping services across the country. It was started in 1999 as a primary B2B online shopping site. However, it transformed into the most comprehensive online shopping portal in Asia. Now it offers C2C, B2B and B2C online services. The total amount of revenue this company generated in 2022 is estimated to be approximately $126.13 billion.
It is the most prominent online retailer within Asia and extends its reach to other regions of the globe. Alibaba employs more than 245,700 people to aid in the various processes involved in the buying and selling of multiple products through Alibaba's platform. Surprisingly, Alibaba has taken on a record time, the equivalent of 812 million daily orders over 2017. 
Myntra
Myntra is another competitor of Flipkart. Myntra is an online marketplace that offers a broad collection of clothing products. It was established in 2007 to serve the primary purpose of customizing different kinds of gifts, particularly those connected to fashion. About three years later, myntra decided to change its direction. Then began to start selling clothing items with the brand name. Amazon began to enter the India marketplace in 2013, and it was a significant challenge for local online stores. 
This situation led to the decision of myntra to join Flipkart in 2014 in the hope of combating the competition with amazon.
The Flipkart success story is evidence of using a site to promote its products and brands. Flipkart uses different strategies and unique business model of Flipkart helped to engage customers across all social media platforms.   
Do you want to implement similar effective strategies? Create online solid marketing plans for your business with the help of the best digital marketing company in Thrissur, www.nexxacorporates.com