The first time that most of us came across Amul was when the catchy tune rang from the television.
Moreover, most of us were young at that time. As we age, we hear a variation or other version of the same tune that brings back many memories.
Amul is also known as Anand Milk Union Limited, a 75+ years old brand.
When it comes to dairy products, Amul is still a market leader.
Amul is an Indian cooperative company based in Anand. Amul is one of the biggest food and beverage firms in the world.
Their main job is to produce and distribute dairy and other milk products. Amul is famous for its quality products and innovations.
Here we discuss about the different marketing strategy of amul used in 
WHAT IS MARKETING STRATEGY?
A marketing strategy is the entire strategy of a company to attract consumers and turn them into buyers of their product or services.
Marketing is more than marketing and advertising – it's about interacting with your customer.
A marketing strategy is a direction for marketing and product-related activities.
A marketing plan can help keep all your efforts in order.
Developing a marketing plan involves setting objectives, researching the market, preparing plans for products, defining your marketing strategies, and following what is known as the "7 P's."
What's included in the marketing strategy?
A marketing strategy sets the general direction, but not the specifics – for a range of marketing-related actions. The ideal marketing strategy will assist you in defining the following objectives for your business:

a) Target audience
b) Value proposition
c) Product mix
d) Brand message
e) Initiatives to promote
f) Marketing content
3 BEST MARKETING STRATEGY OF AMUL:
1. Advertising strategy Of Amul and Branding strategy Of Amul
Here are some advertising strategy of amul and branding strategy of amul listed below
a) Amul's mascot 
Amul is famous for its model, known in the form of Amul girl is someone that we all recognize. The Amul Girl is the emblem of Amul's name. 
The belief is that Amul girl has been the main element of Amul's marketing strategies throughout the years.
It is believed that the Amul Girl is a cartoon character who wears a polka-dotted dress with blue hair and is wrapped in half-ponies. 
Amul girl is the main character in many advertising strategies.
b) Branding as "The taste of India."
Amul's tagline is an impressive marketing strategy for the business.
That's why we knew the business from its early days. Attractive taglines will attract the audience to their product. The tag line taste of india is very famous among the society.
 c)  Amul's Product Portfolio complements its Marketing Strategy
 Amul employs a broad marketing strategy. Through Amul Girl and Amul Girl campaigns and their ongoing content marketing initiatives. This is one of the best Amul marketing strategies.
Their marketing strategies are always up to date. The range of products is the other element of Amul's marketing strategy. 
Some brands, like London dairy Baskin Robbins, etc., have managed to get the attention of some small local markets, which provide high-end consumers.
Amul secured its standing in the general dairy market. Their primary target audience was lower and middle-class families.
d) The discount percentage of Amul's Advertising Strategy
We have reached the final part of Amul's marketing strategy: a 25 percent discount on their products. 
The targeted public wouldn't even know about the item without any advertisements.
Amul got a Guinness world record for running the longest advertisement campaigns. This the best branding strategy of amul used in the field.
2. Low-cost Marketing strategy used by Amul
Amul is famous for its quality products, and its main attraction is its low product pricing, which makes Amul unique from other companies.
This pricing strategy of Amul made it affordable for its target audience. Increasing the price of products proportional to their audience's income allowed them to keep their customers.
One of these lines of products is Ice cream. Unlike certain companies that focus on only profit, Amul is focusing on obtaining the most affordable price for both customer and producer.
The well-thought-out and implemented strategy integrated logistics and supply chain management model. Amul was a cooperative with three levels of structure.This is the pricing strategy of amul used in the business sector.
1. At the village level, there were cooperative societies that produced milk
2. You can see milk unions with processing centers at the district level
3. At the state level, milk associations were in charge of consolidation
This simple model has led to huge returns for suppliers. The profits of the suppliers increase as the price increases. The surplus goods are shipped to areas that have great demand.
3. Digital Marketing Strategies of Amul:
These are the digital marketing strategy of Amul:
1.Amul's Social Media Marketing Strategy
Amul's social media marketing strategy is to stay up with social trends and interact with audiences in real-time through different social media techniques.
a). Amul's Instagram Marketing Strategy:
Amul's instagram has 402k followers and is continuously growing. They have been quite active on instagram, engaging followers with different types of contests.
For example, it currently publishes content directly towards IPL 2022 to make it more relevant. They also post polls, quizzes, etc., so these can improve the number of people who engage with them.
The brand's frequent content promoting its products and services is steadily increasing the number of followers by instagram marketing. This is the best digital marketing strategy they used in the sector.
b). Amul's Facebook Marketing Strategy:
Amul already had a successful content tool in its brand Amul Butter, which is used in print and on the web, which is why it was not difficult for the business to switch to Facebook.
The company utilized the butter girl to create content that focused on current events; uniquely, they received a lot of attraction among the youth.
Amul has been quite active on Facebook, engaging audiences with different types of competitions.
The brand's frequent posts promoting its products and services are steadily increasing the number of followers.
C). Amul's Twitter Marketing Strategy:
On Twitter, the content is almost identical; however, it's managed to exceed the users of various Indian businesses. 
Due to the company's highly appealing images, people have rejoiced by the brand on numerous occasions and in high-energy events. 
We all know that Twitter is about sharing your personal or your experiences.
Just like happy customers, some users might have yet to have a pleasant experience with the company and have shared their experiences on their Twitter profiles. 
But, Comparatively, with other companies, Amul's social media team helped give a solid understanding of the social media circuit.
D). Amul's YouTube Marketing Strategy:
In 2014 Amul's youtube ad first went live. The Gujarat Cooperative Milk Marketing Federation exclusively broadcast the three-minute film on youtube.
It was Amul's first social media release and is part of the company's effort to reach out to the new generation of customers.
2.Amul's SEO Strategy
According to SEmrush, Amul has a domain score of 59and receives 929.6k of traffic from organic sources. They have seen a 1.9% rise in numbers recently. All these indicate the website SEO performance of Amul. These are the digital marketing strategies of Amul.
THE COMPETITORS OF AMUL ARE LISTED BELOW: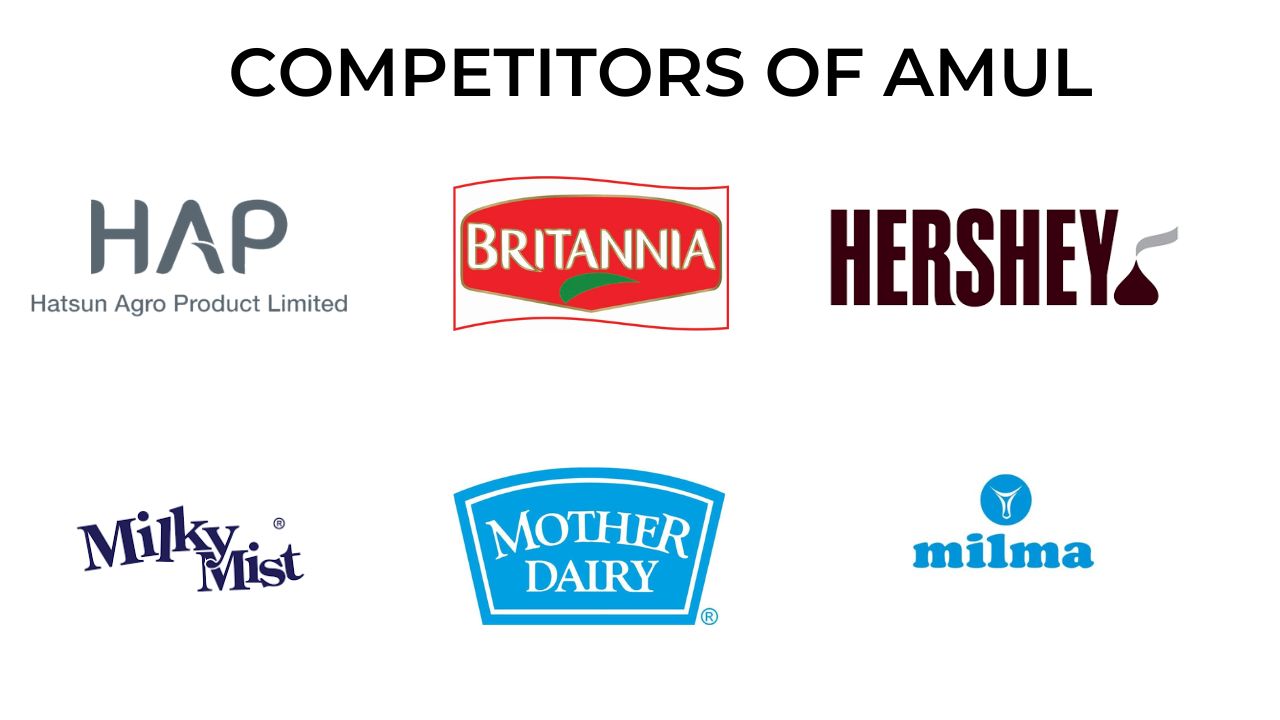 1.Mother's Diary
Mother dairy private limited is an Indian food processing company that manufactures and sells milk, milk, and other edible products. Under the Mother, the dairy brand includes milk products like ice cream, ghee, and paneer.
2.Milma milk– Kerala Cooperative Milk Marketing Federation
Milma is one of the famous manufacturers in Kerala for its milk and other varieties of milk products.
3.Milky Mist Dairy
Milky mist is one of the largest private companies in south India that offers more than 20 milk products. They contain the largest cheese-making unit in Tamil Nadu.
4.Hershey
Hershey is an American multinational company and the world's largest chocolate manufacturer.
They also produce baked products like cakes and cookies and sell beverages like milkshakes.
5.Britannia Industries
Britannia Industries Limited was founded in1892 and is an Indian multinational food and beverage company with headquarters in Kolkata.
It is known for its biscuits products and is India's one of oldest companies.
The company sells biscuits, dairy products, and bread throughout India and over 60 countries worldwide.
6.Hatsun Agro
Hatsun Agro, also known as Hatsun Agro Product Ltd (HAP), is India's leading private dairy company.
HAP manufactures and markets products like milk, curd, ice creams, and lots more.
Their key focus is to deliver quality products to the audience.
7.Dodla Dairy
Dodla dairy is a public limited company situated in Hyderabad city in India. Dodla manufactures and distributes milk and milk products. 
Our products are available in 11 states and have 94 milk chilling centers. 
 8.Vadilal
Vadilal is a popular ice cream company that was established in the year 1907. They are the manufacturers of ice cream and flavored milk.
The company's main business is ice cream, processed foods, and other products.
First, they started with the production of soda, and later they grew into a popular biggest company with the production of 50 flavors of ice cream and frozen food.
Amul is an Indian brand known for its butter, cheese, and milk. The brand has been around for over 75 years and is still going strong. 
The strategy of Amul is to provide quality products at the best prices possible. They also advertise their products to create awareness about the brand.
 As a result, their sales have increased. The company has also used social media marketing strategy to its advantage. 
The increase in sales is a testimony to the brand's marketing strategy.